About International Bolting Technologies
Founded in 1997, what sets International Bolting Technologies, Inc. (IBT) apart from other bolting service and product companies is the background and direction provided by Gregory Young, Vice President of International Bolting Technologies.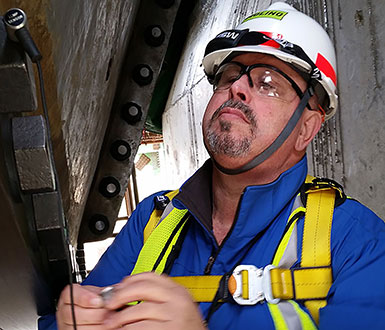 Mr. Young began his career in bolting technologies at Raymond Engineering in 1987, while the iconic Mr. John Bickford was Vice President. Mr. Bickford wrote 8 books on controlling bolt preload including "An Introduction to the Design & Behavior of Bolted Joints, 3rd Edition, 1995, Marcel Dekker, New York" also called "The Bolting Bible" by many engineers, started the Bolting Technology Council and presented numerous seminars for engineering societies and individual companies. Furthermore, it was his insight to purchase the patent for a fledgling technology, ultrasonic bolt elongation measurement, and develop it into a useable field technology known as the Raymond Engineering Bolt Gage.
Mr. Young learned from Mr. Bickford his philosophy to "just solve the customer's problem regardless of whether or not we make a sale" and Mr. Young has adhered to that creed for over 30 years of field and laboratory experience, providing customers with the best recommendations regardless of whether it is a product offered by International Bolting Technologies, a competing method, or even just changing procedures. As John Bickford stated many times, "focusing on solving your customer's problem and not the sale establishes our credibility and helps your customer avoid costly failures."
Mr. Young has over 30 years of experience identifying and resolving bolted joint problems with many diverse methods of controlling preload in critical bolted joints. International Bolting Technologies is not just a one-trick-pony with a single primary product that may or may not be suited to your best interests. We offer a diverse range of products and have many informal relationships with lesser known companies offering technologies which may be better suited to your specific issues than that of the mainstream torque wrench or tensioner manufacturer or distributor.
Torque is the most commonly used method of preload control, after "calibrated elbows" and slugging/hammer wrenches. Impact wrenches offer very little in the way of preload control, yet every few months we get an inquiry asking if we can calibrate someone's impact wrench. Controlling bolt preload can be a complicated task and it is important to seek out a knowledgeable source for your answers. Much of what we do at International Bolting Technologies is working with customers to solve issues create by others. The bolted joint can be properly designed with the correct procedures specified, but one small change, as seemingly insignificant as using a different thread lubricant, can be the difference between a successful bolted joint in service with little or no adjustments for years or decades and a fatigue failure next year.
Whether you are using torque, torque+ angle, tensioners, outside micrometers, depth micrometers with datum rods, ultrasonic bolt measurement, direct tension indicators, tension control bolts, proprietary thread designs, thread lockers/sealers, proprietary washers, proprietary load indicating bolts, jack bolts, heater bars, induction heating, etc. etc. we can help if you are having issues or just want to find out if there is a better, less costly or more efficient method to control the bolt preload in your bolted joints.
We look forward to hearing from you and working together to provide the solution that best suits your applications.