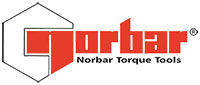 Accessories such as filter, regulator and lubricator units, tool controllers, offsets gearboxes and lifting assemblies are all available for use with PneuTorque pneumatic multipliers.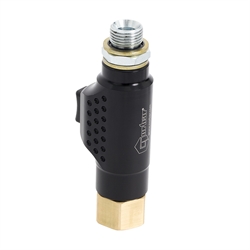 The Dual Trigger Module (DTM) is a safety device that can be retro-fitted to PneuTorques.
A Secondary trigger for use with all PTM & PTS tools that easily attached between the tool's air inlet port and hose. This requires the operator to use both hands to run the tool and so reduces the risk of hands getting trapped between the reaction bar and reaction point.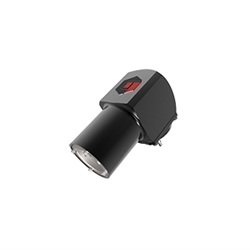 The Right Angle Gearbox enables the benefits of Norbar's pneumatic and electric torque tools to be brought to a host of applications from which they are currently excluded due to space restrictions.
The Right Angle Gearbox provides most ET, PTS and PTM tools with a 90° angle of operation.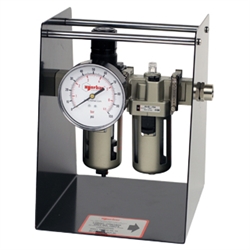 Filter, Regulator, Lubricator Unit
For use with all Norbar Pneutorque pneumatic multipliers.
Allows specific torque values to be set using the air pressure versus torque graph, supplied with each tool.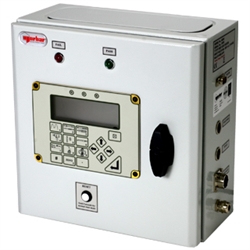 The Tool Controller is supplied in a wall box for 'External Control' versions of the PTM series of tools and can give a much greater range of functionality than is possible on the 'Internal Control' version of the tool.
There are two models available, with or without a printer.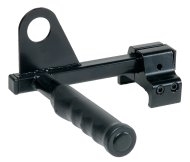 A variety of lifting assemblies have been developed to ensure that Pneutorques and Electrotorques can be manoeuvred and operated safely in a production environment.
Standard Series Pneutorques and Electrotorques with a capacity exceeding 9500 N·m are fitted with lifting brackets as standard. These tools are best handled with mechanical assistance.
For applications that require the smaller tools to be suspended by the use of a hoist or counterbalance, Norbar can supply a special purpose lifting bracket.
72mm Series Pneutorques and Electrotorques are all supplied with a lifting handle as standard. This handle is for manual use only and has no provision for alternative mounting such as a hoist or counterbalance.
For applications that require the tool to be suspended using a hoist or counterbalance Norbar can supply a special purpose lifting handle.
Customers requiring lifting handles for tools fitted with and Annular Transducer will require the longer Auto Two Speed versions.
Originally designed to tighten plate heat exchangers where nuts have to rundown studs up to 1 metre.
Offsets are invaluable in situations where access is limited due to headroom or tool diameter.
The Geared Offset has been developed to enable the tightening of fasteners in environments where access restrictions prevent the use of a standard multiplier or where excessive stud lengths prevent the tightening of a nut with standard sockets.
Each geared offset is manufactured to customers specifications and is therefore tailor-made to their application. For this reason it is essential that we obtain as much information as possible.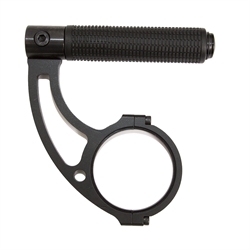 The secondary handle is an easy fit and versatile accessory which offers additional support and ease of handling when applying torque with Norbar's powered multipliers. The secondary handle is designed to fit directly to all new powered multipliers which have a handle location groove in the annulus which is covered by a red rubber band.
For use with ET/ET2/PTS/PTM 72, 80, 92 & 119 Series.