For more information about the Delta Sigma, call us at 1-844-265-1000.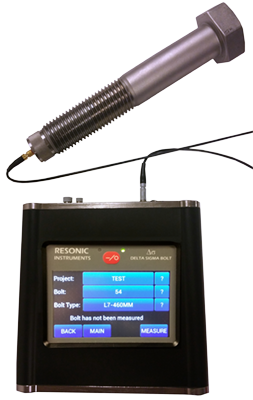 Ultrasonic Bolt Load & Elongation Measurement Instrument
Touch Screen Display
IP44 Rated (sealed for field use)
Low cost
Compatible with MS Windows and MS Excel
Chargeable instrument by external charger or Micro-USB
Automatic Updating Temperature Probe
The Delta Sigma pulse-echo ultrasonic time-of-flight (TOF) measurement device; measures, displays, stores and transfers bolt load and elongation data in a new, single purpose unit. The Delta Sigma uses a rugged, sealed color touch screen for all operator I/O. The screen uses proven medical touch panel hardware. The measurement system is a hybrid technique, using the best of both analogue and digital signal processing techniques for fast signal acquisition and precise single shot TOF measurement.
All data is logically presented on a 4.3" color, resistive touch screen, usable with gloves. Data and digital signal traces are stored for later display and transfer. The unit has automatic temperature compensation through an included magnetic temperature probe. The novel memory system has a secure sector for all bolt data and a "public" sector for transfer via USB to computer
The Delta Sigma is powered by proven Li Ion batteries or through dual charger inputs: fast charge standard external 9V supply or the waterproof micro USB connector from any standard 5V USB device, battery pack or power supply.
Intuitive software developed specifically for bolting industry, the automatic echo detection algorithm has been developed with input from the most experienced users and electronic developers in the bolt tightening industry! Communicate to any PC with standard USB connection.