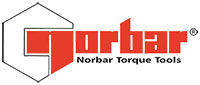 Electrode Torque Wrenches
Electrode Torque Wrenches are for torque tightening of carbon electrodes up to 2360 lbf·ft (3200 Nm).
The 8" diameter electrode wrench uses the professional torque handle as the control mechanism, above 8" use the Industrial torque wrench.
The correct tightening of carbon/graphite electrodes is known to increase the energy efficiency of electric arc furnaces and prevents electrode sections from being lost in the furnace.
Norbar Electrode wrenches are based on two well proven torque wrench designs; electrodes up to 8 inches use the 'Professional' type, 9 inches and upwards are based on the 'Industrial' wrench.
Positive torque control increases the energy efficiency.
Self-clamping action speeds the tightening operation.
Unmistakable signal when the set torque is reached.
A wide range of electrode sizes can be tightened.
Products in this range:
PART NO. 12506
8" Electrode
PART NO. 12530
10" Electrode
PART NO. 12531
12" Electrode
PART NO. 12532
14" Electrode (high)
PART NO. 12533
16" Electrode (high)
PART NO. 12535
18" Electrode (high)
PART NO. 12536
20" Electrode (high)
PART NO. 12537
22" Electrode (high)
PART NO. 12538
24" Electrode (high)
PART NO. 12538.HD
24" Electrode (heavy duty)